How wonderful is water? We can drink it, bathe and soak in it, swim in it and feel refreshed, clean and rejuvenated inside, out. Water is also a wonderful carrier- transporter of minerals. I'm a personal fan of mineral bath and foot soaks. I find them relaxing and energising and I always sleep well on the days I have them. There are many mineral therapies I discovered whilst travelling, not popular in the UK and I have outlined three below.
Balneotherapy – Mineral bath therapy- closest thing is a bath soak in mineral salts. The therapist can also offer a massage with this.
Thalssotherapy – Seawater therapy- learnt about this in Tunisia. All the spas offer this in Tunisia and I think in France this treatment is popular too. Not yet popular in the UK. And the closest thing we have here is hydrotherapy. However for hydrotherapy to be effective, it needs the nourishing minerals.
Pelotherapy – Mud therapy – I think my experience in the dead sea in Israel counts as this!
So if we cannot find spas near you that offer this, the easiest cost effective way is to create a home spa. All you need is a bath and some mineral salts. Candles, your fave essential oil and some peaceful music can add to the spa experience. And not forgetting a fluffy towel to dry yourself in after. If you do not have a bath, then you can have a foot soak in a tub.
I've tried all of the popular mineral salts on the market and my fave is Better You's Magnesium oil as its super concentrated in the mineral magnesium, better absorbed compared to the others as its a liquid form and also more cost effective.  Furthermore the measures are written on the bottle so you know how much to pour in. All the salts will have some transdermal absorption through the skin, however you need to use 200- 300mg of the flakes so you'll end up using them up quickly. Some of the other bath salts may contain  other minerals like potassium, calcium, bromide. This is fine, but are not necessary as the key one we need is magnesium. As it serves the most benefit in relieving aches,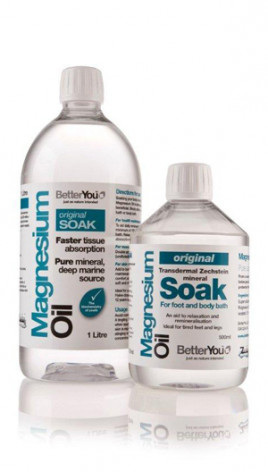 tensions in the body and has therapeutic benefits on physical ailments in the body. Our magnesium needs are about 400mg a day, no one will be getting in this much through their diets, unless they are supplementing with extra magnesium. The benefits of magnesium are so important for health. From better energy, better sleep, better mood- reducing anxiety, alleviating PMS symptoms, stronger bones, muscles and pain relief. Also I've had clients who are less constipated and have got rid of their laxatives after supplementing with magnesium.
To order your bottle of Better You's Magnesium Oil (external use only). Its 100% natural and suitable for any age and during pregnancy and breastfeeding.  Contact me via my contact form on the website and I will send you the link with a discount code of 10%. £17.96 for 500 ml or £31.50 for 1 litre. Next day delivery. If you would prefer supplementing magnesium via capsules then I can suggest a brand for you too.